Kapas Island or fondly known as Pulau Kapas is a resort island located off the coast of Marang town of Terengganu in Peninsular Malaysia. Kapas is the Malay word for cotton and this does not mean that you can find a lot of cotton here.
Kapas was used to reflect the white, sandy beaches of the island and that is what you will come to expect when visiting here.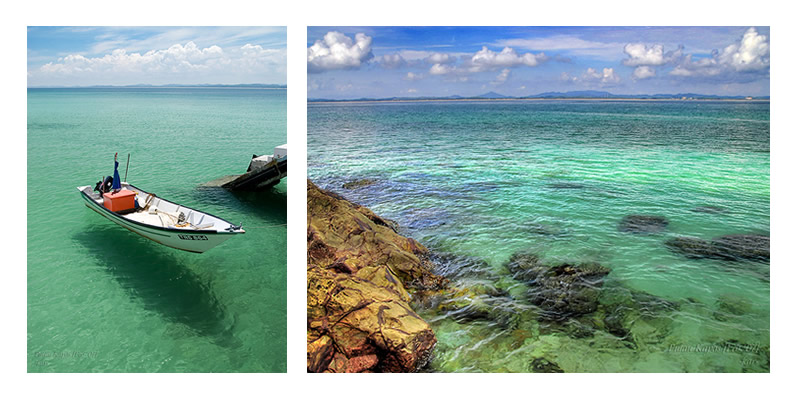 Travelling to Kapas Island
One thing to note, Kapas Island has a very small land size. It is only about 1.5 by 2.5 kilometer in size which means that you can actually get around on foot quite easily before completing the entire island. As it is located along the east coast of Peninsular Malaysia,
Kapas Island is among those that are open to the monsoon season that comes around October to March every year, bringing along a lot of rain that causes rough seas. As such, the best time to visit and when there are a lot of foreign and local tourists here would be around March to June.
Kapas Island is typically an island paradise which is great for those who want to have a holiday under the sun, along the beach and into the seas.
Its main attraction here is the white sands and the coral reefs which make for great snorkelling while it is one of the best scuba diving sites in the regions as well, bringing in thousands of divers from across the world each year to enjoy the sea creatures and the amazing water life.
Fly In to Pulau Kapas
If you plan to fly in, the only possible way is to come into Kuala Terengganu and then use public or chartered transportation to Marang before hopping on the boats to the island. Flights to Kuala Terengganu is served by Malaysian Airlines and Air Asia.
Sail In to Pulau Kapas
Once you are in Marang town, you need to get a boat ride into Kapas Island. For RM25, you can get a return fare for a speedboat that takes you from the jetty to Kapas and then back. Among the service operators here is the Suria Link Boat Services which is quite decent and reliable who can help to make other additional arrangements like transfer to other islands as well.
Getting Around in Kapas Island
As Kapas Island is very small, there are no roads here for vehicles to move about except for those used by the resort. You will notice that going around on foot is quite enjoyable and it takes roughly about 15 minutes to cover the entire island. The first stopping point would be at Marang town which can be reached on road. What you need to do is to come here via the Karak Highway that connects Kuala Lumpur and other major towns to Kuantan and then you need to take Highway 3 that takes you to Kuala Terengganu. From towns like Kota Bahru or Penang, you will have to use the respective highways that reach Marang in order to reach Kapas Island.
Things to do and see in Kapas Island
In Kapas Island, you will be able to enjoy the best of nature in many ways. Unlike most islands along the east coast of Peninsular Malaysia which promise snorkelling and diving, you get to spot turtles here as well.
Turtle Spotting in Kapas Island
– This can be done around the northern part of the island. Terengganu is known to be one of the hotspots for turtles to come ashore to lay eggs which means you can spot the giant leatherback, Olive Ridley or Hawksbill if you are lucky.
Snorkelling and Scuba Diving – What is an island resort without diving and snorkelling? Kapas Island is known for a few really famous dive sites. Operators like Aqua Sport can help you in organizing diving excursions which are available for both day and night. Meanwhile, snorkelling is possible through the resorts which help you to make arrangements for diving as well. In most cases, you can snorkel just off the beachside or take boat rides to other parts of Kapas Island to dwell among the creatures on the seabed.
Jungle Trekking – If you plan to trek the jungles here, it can be very effortless as Kapas Island is very small. You can do so at the locations behind the Kapas Island Resort that takes you towards other parts of the island including the Turtle Valley Resort where you get to see another view from the island. This can be quite an experience because of the fact that you will be hurdling through a lot of beautiful plants and small animals along the way.
Kapas Turtle Valley
At the Kapas Turtle Valley, you are bound to experience a holiday which is totally unforgettable. Of all the images and picturesque sceneries you have seen previously about how island resorts look like, this will most likely have the closest resemblance.
This is because of its perfect setting of being by the beachfront and overlooking the beautiful blue seas.
There are several different types of rooms available which is offered at affordable rates. Privacy will be most appreciated here because you are literally staying in your own 'home' units designed in bungalow layouts.
Rates start from as low as RM190 per night where the units here are specially designed with the guest in mind that comes with the best facilities and services.
What you will get here is one that faces the sea which means you wake up to the gushing sound of water slapping the rocks and be at peace with some of the most breath-taking sights anyone can imagine.
From the Kapas Turtle Valley, you can go on excursions to the nearby islands or go kayaking out into the waters. Snorkeling trips can be arranged to get up, close and personal with the sea creatures of Pulau Kapas while diving trips can be arranged for those who are into this sport.
Between May and September, you could go for turtle watching which is unobtrusive and very fulfilling. Besides that, the hotel can make transportation arrangements between Marang and the island and towards other hotspots around Pulau Kapas if needed as well.
Accommodation Options in Kapas Island
The LightHouse
Anyone visiting Kapas Island will tell you to expect the best of what nature can offer in one of the most beautiful islands in Malaysia and the surrounding region.
Whether you are coming on a luxury tour or on a shoestring budget, there is something for everyone to appreciate the very impressive string of flora and fauna of the eastern coast of Peninsular Malaysia.
The Lighthouse is one of the simple and affordable places to stay if you are on a budget. This place epitomizes the backpackers' style of travelling where you get to stay in a large room in a no-frills environment.
The Lighthouse is a great option for a good night's stay if you are one who wants the simple and basic lifestyle of the seaside without having to pay too much.
What you get here is a place to just laze around and enjoy slow walks along the beach amidst the tall trees that outline the seaside or be strung on a hammock between them.
Guests can use the shared bathrooms here while there are some units that are available with attached bathrooms for more privacy. Typically,
The Lighthouse gives you an experience you will not find in other resorts and upscale hotels where you very much dictate what you want to do and when you want to do it whether it is kayaking, snorkeling, walks around the nearby locations or go island-hopping. Otherwise, you can do nothing and just bask in the atmosphere and the spectacular views of the seas above and beyond the horizon.
Duta Puri Island Resort
The Duta Puri Island Resort Pulau Kapas is a luxurious and comfortable place to stay for anyone coming to Kapas Island seeking a fulfilling holiday.
It is one actually one of the most established hotels in the island having been around for more than 20 years now. Duta Puri Island Resort offers a great option because of its large land area amidst the beautiful beach and seaside environment.
From Duta Puri Island Resort, you will be welcomed by a myriad of beautiful sceneries that overlook the crystal clear waters together with the chilling tropical breeze gushing through to you.
From the town of Marang, you can get a boat ride from RM25 to reach here where you know you have come to the right place when you notice the sun, sea and sand settings.
At the resort, a variety of activities awaits you where you can go for water sports like kayaking and canoeing. Besides that, jet skis are available for rent or you can go snorkeling at the nearby hotspots.
Scuba diving trips can be arranged as this is one of the most popular sports here. Within the units, you can enjoy the air-conditioning rooms with television sets although you will be not be spending a lot of time indoors.
Other known activities here include bird-watching and island-hopping or you can go for a speedboat ride to the nearby locations to enjoy some of the most spectacular and breath-taking views of the waters and the natural wonders of Kapas Island.
Gem Wellness Spa and Island Resort
Pulau Kapas is one of the most beautiful islands in Malaysia and the region. Unknown to many, it has one of the most scenic land and seascapes you can ever imagine.
Located not far from the main centre of Kapas Island is the Gem Island Resort and Spa. This is a truly luxurious resort which is among the few privately-owned isles in the country.
As such, you can expect a host of upscale facilities here waiting within the Marine Conservation Park. The beaches here are practically untouched while the water is so still, it feels as if no one has ever swum in them before.
The resort here has its own wellness spa called the 'Tusita' which will surely make your vacation all the more relaxing.
The Gem Wellness Spa and Island Resort provide 45 water villas which you will enjoy the view from the comfort of your own doorstep. All the villas here face the South China Sea which means you will be waking up to the view of the spectacular ocean joining the skies where you get to enjoy your own seating area with Chinese tea.
Activities here include island hopping which can be arranged with the resort or you can go kayaking out to the waters. A trip to Kapas Island will not be complete without snorkeling where you can swim with the most amazing sea creatures or go scuba diving in some of the top diving spots in the world which can all be arranged with the management.
Kapas Coral Beach Resort
The Kapas Coral Beach Resort is a unique hotel that promises a truly memorable vacation in Kapas Island. It was formerly known as the Beauty Island Resort where it is one of the very popular places to stay if you are looking for comfort and a place which is away from the crowded areas of the island.
The Kapas Coral Beach is ideal if you envision an island resort getaway with the best facilities without having to go very far or pay exorbitant rates.
Not far from the beach of the Kapas Coral Beach Resort is the natural habitat of the rich flora and fauna that the eastern coast of Peninsular Malaysia is so renowned for.
This is where you will be able to walk along the white, sandy beaches overlooking the pristine, clear waters of the South China Sea. Within the waters is where you will find some of the most amazing and beautiful coral reefs naturally grown for centuries.
From the Kapas Coral Beach Resort, you will be able to go for snorkeling trips or scuba diving among the top sites here in which you can come in contact with the most amazing fishes, turtles and other sea creatures, seen usually only in pictures and magazines.
Besides that, you can go kayaking or windsurfing along the seas while taking walks along the resort is as fulfilling for those who prefer to stay dry. There are many types of accommodation options from as low as RM60 per night which come with basic facilities and amenities.
Kapas Island Resort
The Kapas Island Resort is one of the few major places to stay in Pulau Kapas. It is no surprise why this place has often been called the 'best kept secret in the east coast' where you will find among the best of what anyone can come to expect with a reputation like this.
If you are looking for a place with the best facilities and services while enjoying the best of what an island resort has to offer, the Kapas Island Resort is perhaps the most perfect option for your vacation.
What you get here is a hotel cum resort which is very near to the main jetty of Pulau Kapas. The chalets here will give you the impression that you have arrived at a paradise-like resort.
There are 60 chalets here for you to choose from which are all designed using the local, Malay motifs.  All the chalets here are tastefully designed to give you maximum comfort during your stay here.
Decently equipped with in-room facilities and services, they are perfect for small groups of families. If you are coming to Kapas Island on a budget, you can stay at the cheaper dormitories which come with shared bathrooms and toilets.
The Kapas Island Resort can make arrangements for you to visit the nearby hotpots or go for snorkeling if you like. Scuba diving trips are available while you can choose between the various types of arrangements offered here like their honeymoon, family day and other packages available at affordable rates.
Mak Cik Gemuk Beach Resort
The Mak Cik Gemuk Beach Resort has a very unique name for a hotel in Kapas Island. Mak Cik Gemuk is the local phrase for 'Fat Auntie' where you will be staying in a large resort surrounded by some of the most beautiful beaches in the world one can ever imaging.
There are different types of rooms available which can accommodate small groups of visitors and guests of up to 3 people. In total, there are more than 60 chalets available for rent here which come with standard facilities and equipment.
Within the units, you can choose either those with air-conditioning or fans for those that appreciate the natural wind. Most of the units come with attached bathroom with hot and cold shower while they are fitted with mosquito nets as well.
Room rates start from RM70 per night while you can choose to take those that are bundled in packages. This means that you can stay in any of the rooms available in twin or triple sharing basis and come with transportation of transfer from the jetty to the resort.
There is local food served here throughout the day for breakfast, lunch or dinner. If you are planning to go for a dip into the waters, you can make arrangements with the resort operator to go snorkeling or scuba diving.
There are island hopping tours, speedboat tours that take you around the vicinity of the island to witness the spectacular views of the ocean and the smaller islands.
Qimi Private Bay Chalet
The Qimi Private Bay Chalets is a very special place to stay for anyone visiting Kapas Island for a holiday. This is the closest you will get to enjoy a homely environment without having to go through rates that are over-the-top.
It will be very difficult not to fall in love with the Qimi Chalet because you will notice its welcoming units the moment you arrive here. The tranquility of the island can be enjoyed to its fullest here because you are actually as private as you can get without having to maneuver past the crowded areas of other beaches.
Within your own chalet unit, you can practically do nothing and laze around while basking in the gushing water slapping towards the coast or the amazing insects communicating to each other coming through from the forest nearby.
A seaside vacation will not get any better when you are able to wake up to the sights of the surrounding seas and beautiful skies. Owned and run by Rose and Nolly, you can enjoy the home-cooked food served here.
If you are going to enjoy the waters, take a dip into the seas or go snorkeling at the nearby spots. You can go for short walks into the jungles to spot some birds, monitor lizard and other animals.
For those who like the underwater species, scuba diving is a norm here where you can go to the nearby dive sites or head out to other smaller islands to enjoy the other beaches and nature's best.
Pulau Kapas Travel Packages
3D/2N Discover Pulau Kapas Tour
Pulau Kapas has some of the most spectacular natural wonders around Malaysia. With so many islands to choose from across the country, coming to Pulau Kapas will be one of your most ideal options if you want to visit a place that is out of the maddening crowd and relaxing enough.
With 3 days and 2 nights under the clear skies of Pulau Kapas, you will be able to enjoy the best of nature and the seaside of Malaysia. This package will give you the maximum comfort and convenience you deserve. Once you confirm the package, you will only need to make your way to Marang.
From there, we will include your transfer from Marang to Pulau Kapas and back via speedboat. Enjoy the strong breeze slapping through the waters as you make your way to the island. This package includes 2 night's stay in an all-furnished and well-equipped room where you will enjoy the wonderful views of the sea and the surroundings.
Besides that, you will be enjoying 2 breakfasts, 2 lunches and 2 dinners. This means that your meals are very much taken care of. Meanwhile, you can take your time to enjoy the beautiful and amazing sights of the seaside and the lush vegetation around Kapas. There are a lot of places of interest around Pulau Kapas which you can go on your own or we can make arrangements for you.
The highlight of your trip here would be the waters. You will be able to go for the water activities like jet skiing and such. However, snorkelling is included in this package. You will be provided with 1 snorkelling trip where you can dive into the shallow waters nearby the coast to get up, close and personal to the colourful fishes and coral reefs.
Seroja Anggerik Travel and Tours
Jalan 9/2 Taman IKS Seksyen 9
Bangi
Selangor Darul Ehsan
Tel: 03-8920 0971
3D2N Snorkeling Package Kapas Coral Beach Resort
Nothing beats having a relaxing holiday by the beach around Malaysia. You can now enjoy this with this superb snorkelling package at Pulau Kapas. It is a 3 days and 2 nights stay at the beautiful island where you can head to the waters while appreciating the amazing nature sights of Pulau Kapas.
From as low as RM290 per person, this package is specifically designed to give you the best holiday where you can dive into the seabed and spend some time with the fishes and other creatures there. This package is ideal if you are looking for a no frills and relaxing trip.
You will be provided with boat transfer from Marang to the footsteps of the resort. Once you are here, you will be treated with lunch and then you are free to roam the island on your own. The action starts on the next day where you begin with a sumptuous breakfast in the resort.
After that, you will be brought to the snorkelling spot in which you will be briefed on the safety practices beforehand. This package comes with all the equipment rental involved for your snorkelling.
You will then have lunch before heading out to snorkel again. This means you will be spending a whole day getting to know the splendid sights and sounds of the waters off Pulau Kapas. For those who do not like to dive in, taking strolls along the beaches of Pulau Kapas can be equally as satisfying or take some time to look for shells although you are not encouraged to take them home.
Then, you will have some leisure time to go around and bask in the cooling sea breeze or take photos of the beautiful surroundings. The next day, you will have breakfast before heading back to Marang.
Al Masyhur International Tours and Travels
No. 3A Jalan 4/11A, Seksyen 4 Tambahan,
43650 Bandar Baru Bangi,
Selangor
Tel: 03-8925 0811
Food in Kapas Island
– Typically, you won't find many restaurants here where the best places to dine and have a decent meal would be through those operated by the resorts. Expect some very sumptuous local delights while there are continental choices as well. To be safe, you should take the packages offered by the resorts which are inclusive of food and lodging as well as certain excursions to the dive spots or other nearby islands.
Money and Currency
You would be required to use the Malaysian Ringgit for any transactions here although some resorts accept foreign currencies too. Do not expect to get a good exchange rate though. Major credit cards are accepted at most places.
Best time to visit Pulau Kapas
Kapas Island is very much like the rest of Malaysia where it gets the tropical climate all through the year. You can actually visit Kapas Island anytime throughout the year although you must be aware of the year end monsoon that comes around from October to March. As such, the perfect time to come for the sun and sea would be between May to August when rainfall is at the lowest and when you have the calmest of seas. However, take note though that those are peak seasons which mean the beaches can be quite crowded.
Language and Culture
Rest assure that English Language is spoken and understood around Kapas Island. If you know some local dialects of Bahasa Malaysia, it helps to get you to places and even discounts at times. Be careful not to offend the locals as some can be quite strict Muslims (as Islam is the official religion here).
Clothing
Light clothing will be perfect for an island vacation. This does not mean wearing clothes that are too revealing or transparent. There is not much to pack when coming to Kapas Island except t-shirts and bermudas with flip-flops.
Hygiene
Drinking water usually come in bottled form. You can buy them from shops while some resorts give them out as complimentary. You should not drink from the tap (although it is quite safe) unless you boil them beforehand. Besides that, Kapas Island is generally a very clean island.
Electricity and mobile services
Malaysia practices the 240V and 50-cycle electricity system. 3-point plugs according to the UK specifications are commonly used. Bring a converter if you are using other voltages or buy one from the shops. Mobile services are accessible from the island which can be quite unstable at times. To be safe, use a local number as pre-paid mobile services are easily available in most convenience stores and sundry shops.